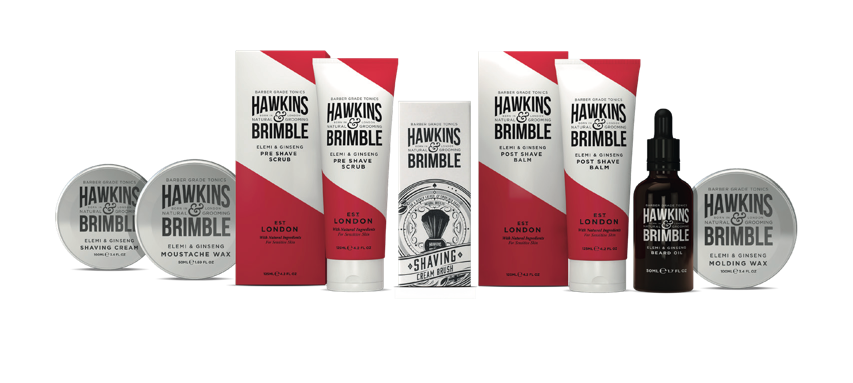 Hawkins & Brimble
FOR THE MODERN MAN
Hawkins & Brimble is a brand new British grooming brand that skilfully blends form and function, encompassing time-honoured barbering rituals for the gent of today. Rooted in classic British style and crafted from traditional ingredients with a modern twist, the extensive range offers Elemi & Ginseng Moulding Hair Wax, Pre-Shave Scrub, Post Shave Balm, Shaving Cream & Brush, Beard Oil and Moustache Wax.
Hawkins & Brimble was founded in 2016 by Stephen Shortt from Sparks Brands (CEO & Founder) and Patrick Bos (International Sales Manager) also of Spark Brands, an award-winning British brand owner and distributer which supplies leading beauty retailers across the globe.
"The Hawkins & Brimble collection is inspired by vintage barbering rituals but with a modern twist. We wanted Hawkins & Brimble to cater to the modern man who is heavily invested in his skincare and appearance but requires a simple, subtle yet sophisticated routine. We feel our packaging and products reflect this whilst also providing the highest quality, natural ingredients" Stephen Shortt, CEO & Founder.
Expertly crafted in England and tailored to complement the modern man's lifestyle, Hawkins & Brimble products are infused with the highest quality natural ingredients from across the globe with the carefully selected fragrance of Elemi and Ginseng including notes of tan leather and coffee. Hawkins & Brimble caters for all types of hair styles from short to long and beards to moustaches, promising to deliver the best results, ensuring even the most discerning gents are left looking sharp and groomed. Effortless yet edgy, playful yet polished, Hawkins & Brimble's grooming collection promotes a subtle yet sophisticated routine that is easy to adopt.
Available from 1st November at www.hawkinsandbrimble.co.uk
Note to Editors: • All Hawkins & Brimble products contain natural ingredients, free from animal testing and are suitable for vegetarians • All Hawkins & Brimble products are free from Parabens, Colourants, SLS/SLES, Mineral Oils and Alcohol.  For further information, imagery or samples please contact
stephen@hawkinsandbrimble.co.uk