Nile Rodgers, Pharrell Williams, Ghetts, General Levy, Neon Jungle, Giggs and more win big at the 12th annual Urban Music Awards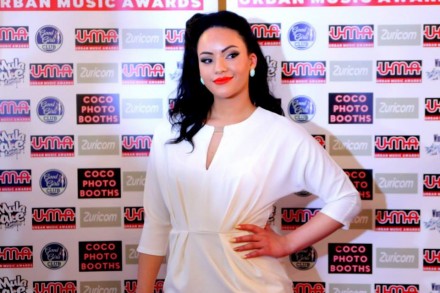 This weekend saw one of the biggest music events of the music calender, the 12th annual Urban Music Awards  announced it's winners for this year. With over 2.5 million  public votes received this year everyone was looking forward to who went home with the coveted UMA award. The Mayor of London , Boris Johnson kicked off proceedings with a special message announcing the launch of the UMA Academy , a brand new academy for young people aged 16-20 .
Mayor of London, Boris Johnson added "The UMA's is one of the long standing and credible awards shows in London and has pioneered our music and talent across the world and it's my pleasure to announce the launch of the UMA Academy to help and inspire the next generation of musicians, creatives and entrepreneurs".
VIP's including; Angela Griffin,  Colin Jackson, Paul Chowdry, Ashleigh Coyle, Luck & Neat and many more joined presenters  Louise Gookey, Cleopatra Wood, and Jordan Kensington on stage as they announced the winners of this years prestigious #UMA awards. With opening performances from BBC1 The Voice's, Jermain  Jackman  and many more the evening was set for what was to be truly spectacular.  Comedian, Aurie Styla  literally brought the house down and Best Newcomer winner, Stephanie McCourt showed why she is certainly one to watch in the future. 
Neon Jungle, the girl group signed by Sony clutched Best Group  and Best Female Act beating stiff competition from Jess Glynne, Clean Bandit,  Katy B, and FKA Twigs. 
Nico & Vinz who have had a successful year so far also year picked up Best Single and Best Cross Over Pop Act for their hit single 'Am I Wrong' 
Legendary musician, Nile Rodgers from Chic was crowned with a prestigious Lifetime Achievement Award whilst  UK pioneer, General Levy took the award for Outstanding Contribution to urban music  immediately after getting the crowd on their feet  performing his hit song #Incredible .  UMA previous winners , DJ Luck & MC Neat took the crowd into  one of the best performances by far of the evening as the closed the show bringing the UK Garage genre back to the forefront with the most note worthy performance of the evening. 
Nile Rodgers who is currently working on award winning group Daft Punk's album  added "It's a pleasure to receive such a prestigious award at the UMA's.  I am truly honoured".
Winners for the 12th annual Urban Music Awards 2014 included;
Best Female Act 2014 sponsored by GoodGirlsClub.net 
Neon Jungle
Best Group 2014  sponsored by Winter Palace Vodka
Neon Jungle
Best Newcomer 2014
Stephanie McCourt
Best Single 2014
Nico & Vinz 'Am I Wrong'


Best Crossover Pop Act 2014
Nico & Vinz
Best Male Artist 2014 sponsored by MulaCake
Ghetts
Best R&B/Soul Act
Debra Debs
Best Hip Hop Act 2014
Giggs
Best Radio Show 2014  sponsored by Vibe Audio
Kojo & Jade (Capital Xtra in the Morning)
Best Collaboration 2014
Brookes Brothers ft. Chrom 3 'Carry Me On'
Best Grime Act 2014
Big Narstie
Best Producer 2014
Splurge Boys
Best International Artist 2014
Pharrell Williams
Best DJ 2014  sponsored by Winter Palace Vodka
Shortee Blitz


Best Album 2014
Ghetts 'Rebel with a Cause'
Best African/Afro Beats Act 2014
Mista Silva


Best Gospel Act 2014
ACM Gospel Choir
Best Reggae Act 2014
Stylo G
Best Electronic/ Dance Act 2014
Clean Bandit
Best Music Video 2014
Nico & Vinz 'Am I Wrong'
Best Music Channel 2014
Channel AKA
Best Clothing Brand 2014
Money Clothing
Best Music PR Company 2014
Impressive PR
Best Radio Station 2014
Kiss
The 12th annual Urban Music Awards was sponsored by Winter Palace Vodka, Pomarina, GoodGirlsClub.net , Zuricom,  Mula Cake, Vibe Audio.
The UMA is also this week announcing the launch of #UMATV a brand new online TV Platform, with interviews, music videos, and exclusive content from the UMA's in the UK, USA, Caribbean, and around the world.
Follow us on Twitter:
@urbanmusicaward
Want to see pictures from the event? Click her for our Official Facebook page
For Press Inquiries/Interviews/Accreditation:
Lisa Fuller (Feeder PR)
E-mail: lissa.fuller@feederpr.com
Tel: 0207-018-2665
For Sponsorship/Marketing:
Marilyn Stamon
E-mail: marilyn@invinciblegroup.com
Note to Editors:
The UMA 2014 Chosen Charity:
The 2014 UMA's will be raising awareness for the Diamond Children's Trust. A charity that helps children in less deprived countries by providing them with funding for education.
About the Urban Music Awards:
The Urban Music Awards is the NO. 1 premiere R&B, Hip Hop, Soul and Dance Music awards ceremony in the world. The Urban Music awards ceremony is one of the only music awards show in the world to be held annually in the USA, UK, France, Caribbean, and Japan with plans to expand to Asia, Dubai and Africa. The Urban Music Awards was born out of the need to build a worldwide awards ceremony to celebrate the achievement of urban based artists, producers, club nights, DJ's, radio stations, record labels and artist from the current Dance/R&B, Hip Hop, Neo Soul, Jazz and dance music scene. Past winners at the Urban Music Awards have included; Beyonce, Rihanna, Jay-Z, Nas, Amy Winehouse, Leona Lewis, Adele, Goldie, Dizzee Rascal, Sean Paul, Beverley Knight, Lemar, Shakira and many more. The Urban Music Awards has established itself as a credible awards ceremony. From its inception all nominations and voting have been left for YOU, the public, to decide! In the past decade, the prestigious awards ceremony has been covered by : The BBC World Service, CNN, MTV, BET, VH1, BBC Radio 1, BBC Entertainment Online, Invincible TV, Evening Standard, The Metro Newspaper, The Independent, The Guardian , Channel 4, CD:UK , London Tonight, Choice fm, New Nation, The Voice, and many more.
For more information, please visit: www.urbanmusicawards.net
Tags :
and FKA Twigs.
Angela Griffin
Ashleigh Coyle
Boris Johnson
Clean Bandit
Colin Jackson
General Levy
Ghetts
Giggs
Jermain Jackman
Jess Glynne
Katy B
Luck & Neat
Neon Jungle
Nico & Vinz
Nile Rodgers
Paul Chowdry
Pharrell Williams
UMA
Urban Music Awards
Urban mUSIC aWARDS 2014