Exclusive: The Truth About Nelson Mandela & His Legacy by Jordan Kensington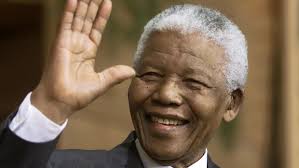 I grew up in the 80′s and I remember my mum always talking about this man called Nelson Mandela who was locked up because of what he believed was right (ie. The power of Love). She often mentioned others like Mother Teresa, Ghandi , and more who all stood for the power of love and equality amongst all human beings. To be honest, I was too young to process the information. Just didn't understand what she was on about!! But, then she chose another medium to explain how important this man who was still imprisoned meant to humanity. The medium she chose was music, I was already experimenting with music as young as 6 years of age so she chose The Specials with a song called 'Free Nelson Mandela' . I remember listening to this single by the Specials and I was ready for the story and my mum told it and wow.. did she tell it so I could understand properly, so I could one day tell my future child or children. So, I could one day go into the world with conviction, belief and above all a sense of equality and love to all my fellow human beings regardless of race, religion and class. This is how she started this story "You, were born on the 1st of July 1981.. so it would be easy for you to remember this date as the numbers, the month's are all significant… 18th of July 1918 , a legend was born" She continued.. "Remember that 'earth date' as it will play an important role in your future". Whilst 'The Specials' were playing in the background to build up the mood of anticipation, she began to tell me the story of Mandela and the only reason I wanted to write about it today was because I want my kids, your kids and everyone today, tomorrow and one day in the future to understand what Mandela's legacy of Love truly means. How Love can impact and how Love can change the world because you might be fooled into believing Mandela's story started with defiance, activist tendencies, racism, and seperation. Mandela story started with love and ended with love.
The Beginning of a Legend:
Nelson Mandela came from an inspirational background of leaders. His Father served as a counselor to tribal chiefs for several years, but lost both his title and fortune over a dispute with the local colonial magistrate. Mandela was only an infant at the time, and his father's loss of status forced his mother to move the family to Qunu, an even smaller village north of Mvezo. The family lived in huts and ate a local harvest of maize, pumpkin and beans, which was all they could afford. After some time, at the suggestion of one of his father's friends, Mandela was baptised in the local Methodist Church. He went on to become the first in his family to attend school. As was custom at the time, and probably due to the bias of the British educational system in South Africa, Mandela's teacher told him that his new first name would be Nelson.
When Mandela was 9 years old, his father died of lung disease, causing his life to change dramatically. He was adopted by Chief Jongintaba Dalindyebo, the leader of a tribe called Thembu people—a gesture done as a favor to Mandela's father. Mandela still had love for his village of Qunu, but he knew he had to quickly adapt to survive in his new surroundings. Mandela took English lessons and started learning about African History. During a break from College, he ran away from the village to the city of Johannesburg because they tried to get him married to a woman he wasn't in love with. Whilst he was in the city, he came face to face with racism like he had never witnessed before. This 'hate' was a knock on his system and defined history for ever.
Rather than running away and giving up. He settled in Johannesburg, where he worked a variety of jobs, including as a guard and a clerk, while completing his bachelor's degree via correspondence courses. He then enrolled at the University of Witwatersrand in Johannesburg to study law.
Mandela soon became actively involved in the anti-apartheid movement, joining the African National Congress in 1942. In 1949, the ANC officially adopted the Youth League's methods of boycott, strike, civil disobedience and non-cooperation, with policy goals of full citizenship, redistribution of land, trade union rights, and a push for free compulsory education for all children.
The Love campaign:
Rather than fight 'fire with fire' . For a whole 20 years, Mandela directed peaceful, non-violent acts of defiance against the South African government and its policies which were deemed as being overtly racist. He had studied Law at University so started a company with his friend Oliver Tambo . The law firm provided free and low-cost legal counsel to unrepresented blacks.
The Shift from Non-Violent Protest to Violent Protest which led to THE ARREST:
By 1961, things were bad and I mean it went from worse to bad in South Africa. Non-Violent protesters were being killed during their campaign runs and there was growing pressure directed to Mandela to respond and change his -non-violent tactics. Mandela, who was formerly committed to non-violent protest, began to believe that armed struggle was the only way to achieve change. He subsequently co-founded MK, an armed offshoot of the ANC dedicated to sabotage and guerilla war tactics to end apartheid. In 1961, Mandela orchestrated a three-day national workers' strike. He was arrested for leading the strike the following year, and was sentenced to five years in prison. In 1963, Mandela was brought to trial again. This time, he and 10 other ANC leaders were sentenced to life imprisonment for political offences, including sabotage.
Nelson Mandela was incarcerated on Robben Island for 18 of his 27 years in prison. During this time, he contracted tuberculosis and, as a black political prisoner, received the lowest level of treatment from prison workers who despised him for what he stood for.
In this time, you can only imagine all the relationships he missed, the pain, the loss. The world was moving at a fast pace, the culture was changing but he remained in a consistent state of isolation. I can only imagine that he must have had moments in that jail were he contemplated ending it all or questioning his soul as to whether it was all worth it. You would think? Right… ? No, not Mandela he had hope, faith and love running through his veins. He understood that God had destined him for greater things even whilst being in jail. He studied everyday meticulously to earn a Bachelor of Law degree through a University of London correspondence program.
A 1981 memoir by South African intelligence agent Gordon Winter described a plot by the South African government to arrange for Mandela's escape so as to shoot him during the recapture; the plot was foiled by British intelligence. Mandela continued to be such a potent symbol of black resistance that a coordinated international campaign for his release was launched, and this international groundswell of support showed the amount of power and credibility that Mandela had garnered in the global political community.
Offer of release:
In 1985, President PW Botha offered Mandela's release in exchange for renouncing armed struggle; Mandela rejected the offer. The local and international pressure for a fair release with no compromises grew over the years, but no deal was made. Fastfoward a few years later, the year was 1990. I was exactly 10 years of age.. I was an official Mandela supporter by this stage with a keen affliction to Law, Music, Journalism, Entertainment, Politics and popular culture, may be in some weird way that explains why I launched businesses in all those sectors. 1990 was a strange year, in entertainment we had just lost the music legend, Sammy Davis Jr. I also remember asking my mum to buy me the first copy of  Entertainment Weekly which had just hit the news stands and there was some crap about Michael Jackson printed which I was obviously defending MJ profusely. My elder sister, who I always teased for her bad taste in music (as she was an avid fan of Milli Vanilli) finally broke down in tears in the realisation that the band were lip-synching hits such as 'Girl You Know Its True,". Yes, I knew it all along. They later had their Grammy award revoked and she later joined me in the 'Micheal Jackson appreciation club'. I also remember the 1990′s as the year, my favourite cartoon of all time 'The Simpsons' premièred on our screen. Wow! Now, no more talking Rabbits (aka Bugs Bunny) and Turtles (aka Ninja Turtles) both making me think my dog would one day move past 'ouf, ouf' to 'What's up Jordan, but where is the bone though'? Yes, we finally had the Simpsons, real cartoon with real human beings acting really 'real'. Ok, in politics what I remember of the 90′s is the news reporters banging on about East and West Germany reuniting and the Iron Lady aka. Magaret Tatcher stepping down from power leading way to the new Prime Minister, John Major. Meanwhile, back in South Africa. Their president, Botha suffered a stroke and was replaced by Frederik Willem de Klerk who was more sympathetic to Mandela's plight. Mandela's release was finally announced—on February 11, 1990. De Klerk also unbanned the ANC, removed restrictions on political groups and suspended executions. I remember this date very well, I was 10, but I had acquired a few years of knowledge of the history of Mandela and we were all waiting for this date. I remember the celebrations we had at home and being witnessed across millions on our TV screens.
His Prison Release, The Presidency and His Loyalty:
At the age of 75 after being in jail for 27 years. In 1991, Mandela was elected president of the African National Congress and he rewarded his lifelong friend and colleague Oliver Tambo who he started his law firm with in the early days to serve as national chairperson. Mandela during his free speech accompanied by his then wife Winnie and Tambo's wife profusely thanked Oliver Tambo (who was being treated in a Swedish Hospital for a recurring illness) for running the party for over 30 years. His speech showed the love, respect and connection Mandela still had for his dear friend. In 1993, Mandela and President de Klerk were jointly awarded the Nobel Peace Prize for their work toward dismantling apartheid. In 1994, South Africa held its first democratic elections. Nelson Mandela was inaugurated as the country's first black president on May 10, 1994, at the age of 77, with de Klerk as his first deputy.
Also in 1994, Mandela published an autobiography, Long Walk to Freedom, much of which he had secretly written while in prison. The following year, he was awarded the Order of Merit.
His Legacy:
Mandela believed that people are born with no hate. You learn about hate and choose to practice hate and in the same way you can learn about love and choose to practice love. The whole world expected Mandela to come out of prison with hate, defiance, and a sense of regret for humanity coupled with a passion for revenge against those who had persecuted him. Anyone in their right minds would have… but this was Mandela a man who walked down the path less travelled. A man who doesn't believe in our version of what's 'right or wrong' . A man who defied convention by coming out with Love, showing unity , empowering all races by inspiring through kindness, forgiveness and a love generated ideology. By 1999 when he had retired from Politics, he raised money to build schools, colleges, clinics and more. He served as a mediator for the Burundi civil war. This was a man who missed seeing the growth of his children. A man who could have GIVING up when he was incarcerated for all those years . In July 18, 2007, Mandela put together a group of world leaders dubbed 'The Elders' including Graca Machel (whom Mandela would wed in 1998), Desmond Tutu, Kofi Annan, Jimmy Carter, Mary Robinson, Muhammad Yunus, Ela Bhatt, Gro Harlem Brundtland and Li Zhaoxing to address some of the world's toughest issues.
In 2009, remember the date (July 18) . This important date as my mum always mentioned when I was growing up . This date (July 18th) in 2009 was declared Mandela Day, an international day to promote global peace and celebrate the South African leader's legacy. According to the Nelson Mandela Centre of Memory, the annual event is meant to encourage citizens worldwide to give back the way that Mandela has throughout his lifetime. A statement on the Nelson Mandela Centre of Memory's website reads: "Mr. Mandela gave 67 years of his life fighting for the rights of humanity. All we are asking is that everyone gives 67 minutes of their time, whether it's supporting your chosen charity or serving your local community. Well, it took me 67 minutes to write this piece and my band KID Army and The Future Machine (fm) would release a single and video called #NewDay next week with all proceeds going to #ProjectPhilippines2013 as launched at this year's UMA's. It would take you less than 67 minutes, to share the video and go to ITUNES and look for the single #NewDay , Kid Army and The Future Machine out later on this week.
Personally, I still can't believe I have witnessed this historical lesson and have grown with it from the 80′s to today (2013).
Nelson Mandela, who led South Africa out of apartheid and became the nation's first black president  died at the age of 95 in the company of his family at around 8:50pm on December 5th, 2013. I can only echo the words of the current South African President Jacob Zuma who announced in a statement to his nation's people.
"He is now rested, he is now at peace,"Mr Zuma said, as huge crowds grew outside the former leader's home."Our nation has lost its greatest son, our people have lost a father.
"But though we knew that this day would come, nothing can diminish our sense of the profound and enduring loss".
I say, the world has lost a Father, a driver of peace, an example of love. A distinctive voice amongst the noise of self ego, riches, and human degradation. Yes, we have lost an icon not a celebrity whose talent are celebrated, an icon who showed us that above all we are all flesh and blood who are born with northing, breathe the same air for a certain 'period' of time and we go back with 'northing' but what we can achieve in that crucial certain 'period' of time. If we go back with 'northing' the aim should be to show, act, spread, inspire, conduct, transpire and engage in love to one another because after all this is all we have got and as I sign off.. I just want to say on a personal level, in my 32 years of existence…. if I have intentionally or unintentionally ever offended or done something that had a negative impact to anyone in my past, present and or future. I say 'SORRY' and I only have 'LOVE' energy for you because I am inspired by the speech given by Mandela on the day of his release as he uttered the words. "Thank you very much to you all and thank you very much for choosing to care". He continued to say in 12.01 "We respect you, we admire you and above all, WE LOVE YOU". Mr Mandela if you don't mind me saying. It is the other way round. ' I respect YOU, I ADMIRE YOU AND ABOVE ALL, I LOVE YOU". Thank you for making your 18th of July 1918 earth date and 5th of December 2013 departure date a HISTORICAL lesson in LOVE FOR HUMANITY!!
#NEW DAY BY KID ARMY & THE FUTURE MACHINE (FM) (All proceeds go to #ProjectPhilippines2013) . Video released on the 10th of December 2013. In the memory of #NELSON MANDELA
Tags :
Entertainment Weekly
featured
Free Nelson Mandela
Jackosn
Jordan Kensington
Kid Army
Kid Army & The Future Machine
Love
Micheal
Nelson Mandela
Nelson Mandela feature by Jordan Kensington
New Day
Ninja Turtles
President De Klerk
President Zuma
Project Philippines2013
Sammy Davis Jr
South Africa
The Love Campaign
The Simpsons
The Specials
The truth behind Nelson Mandela & His legacy
Typhoon
UMA
Winnie Mandela