11th annual Urban Music Awards 2013 nominations revealed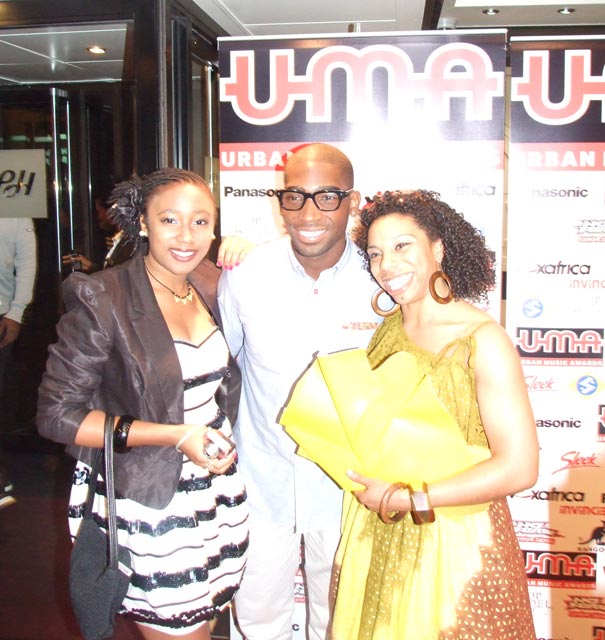 TINIE TEMPAH, LAURA MVULA , BRUNO MARS, JASON DERULO, WILEY, KANYE WEST, RUDIMENTAL , FUSE ODG & NAUGHTY BOY are amongst the front runners for the 11th annual Urban Music Awards 2013
Today the prestigious European Urban Music Awards announced the nominees for this year's highly anticipated 11th annual awards ceremony taking place on Friday, the 22nd of November 2013 in London.
Each year, thousands of avid music fans decide the nominees for each of the 21 categories in the event, and it is these fans who will decide the winners for the 11th annual European Urban Music Awards ceremony.
British born singer- songwriter Laura Mvula leads the way with a ground breaking three nominations for Best Newcomer, Best Female Act and Artist of The Year whilst past UMA winner, Tinie Tempah bags Best HipHop Act, Best single, Best Music Video, Best Collaboration, for his 2013 comeback single 'Trampoline' featuring US artist, 2Chainz.
UMA 2012 breakthrough artist, Fuse ODG who picked up and performed at the UMA's last year, is back picking up Best Single, Artist of the Year, Best Male Artist, Best Collaboration, Best African/AfroBeats Act, and Best Music Video for Antenna featuring Wyclef.
Rising Producer Naughty Boy who has achieved major chart success this year thanks to a string of hit singles and his debut album 'Hotel Cabana' also picks up Best Producer, Best Collaboration, Best Album , and Best Music Video for 'La, La, La' featuring Sam Smith.
Urban Music Awards, Founder, Jordan Kensington commented "It has been a brilliant year for urban music in Europe. We have an eclectic list of nominees who are consistently breaking new boundaries and quickly becoming household names not just in the UK but also within Europe, America and Asia"
The Urban Music Awards has also signed a three year deal with British tablet and smart phone manufacturer, Zuricom. The successful Z-Phone by Zuricom will be marketed via the 11th annual Urban Music Awards.
Lee Cheung, Head of Marketing for Zuricom added "The Urban Music Awards is the perfect brand partner for Zuricom and we are excited to launch our brand new Z-Phone 2 at the awards show in November and build from the successful sponsorship we undertook in 2012"
The televised show will be broadcast on Sky 191.
#UrbanMusicAwards2013
Full list of the 11th annual Urban Music Awards nominations are as follows:
Best Newcomer
(sponsored by Zuricom)
Mike Hough
Laura Mvula
Sasha Keable
Koder
Shakka
Jacob Banks
The Luminites
Lianne La Havas
Jahméne Douglas
A*M*E
Ruby Goe
Best Single
(sponsored by Blueberry Nation)
Wretch 32 ft. Shakka – 'Blackout'
Naughty Boy ft. Sam smith-'La, La, La'
Jacob Banks- 'Worthy'
Rizzle Kicks – 'Lost Generation'
Emeli Sandé ft. Naughty Boy -'Lifted'
Tinie Tempah ft. 2 Chainz – 'Trampoline'
Fuse ODG ft. Wyclef – 'Antenna'
Ghetts – 'The Cypher'
CoverDrive – 'Lovesick Riddim'
Best Female Act
(sponsored by Zuricom)
Etta Bond
Amplify Dot
Laura Mvula
Ms. D
Stooshe
Little Nikki
Lady Leshurr
Lianne La Havas
A*M*E
Ruby Goe
Emeli Sandé
Artist of the Year
(sponsored by Z-Phone)
Michael Kiwanuka
Lianne La Havas
Fuse ODG
Laura Mvula
Wiley
Rudimental
Stooshe
Best Male Artist
G-Frsh
Benny Bizzie
Stylo G
Jahméne Douglas
Mike Hough
Daley
Akala
Fuse ODG
Ghetts
Charlie Brown
Ed Sheeran
Best R&B Act
Benny Bizzie
Mike Hough
Maverick Sabre
Daley
Stooshe
Charlie Brown
Jacob Banks
Best Hip Hop Act
Krept & Konan
K-Koke
Wretch 32
Akala
Lady Leshurr
LowKey
Tinie Tempah
Best Group
Krept & Konan
Rizzle Kicks
AlunaGeorge
Rudimental
The Luminites
Rascals
Cover Drive
Best Radio Show
Charlie Sloth (1Xtra)
DJ Abrantee (Capital Xtra)
Mista Jam (1Xtra)
Shortee Blitz (Kiss)
DJ Swerve (Kiss)
Ras Kwame (Capital Xtra)
Best Collaboration 2013
Jessie J ft. Dizzie Rascal & Big Sean 'Wild'
Tinie Tempah ft. 2Chainz 'Trampoline'
Lethal Bizzle ft. Ruby Goe 'Party Right'
Icona Pop ft. Charlie XCX 'I Love it'
Fuse ODG ft. Wyclef 'Antenna'
Sub Focus ft. Alex Clare – Endorphins
Ray Foxx ft. Rachel K Collier- 'Boom Boom' (Heartbeat)
Naughty Boy ft. Sam Smith – 'La, La,La'
Best Grime Act
Big Narstie
Devlin
Koder
D Double E
Kozzie
Frisco
Best Producer
Naughty Boy
Skott Summerz
Benga
Diplo
Wookie
Best International Artist
Wale
Kendrick Lamar
Valerie June
Jason Derulo
Atumpan
Miguel
Bruno Mars
Daft Punk
Kanye West
Best DJ
DJ Fresh
Ray Foxx
MistaJam
279
Shortee Blitz
Toddla T
Best Album 2013
Krept & Konan -'Young Kingz'
Aluna George -'Body Music'
Wiley – 'The Ascent'
Rudimental – 'Home'
Naughty Boy – 'Hotel Cabana'
Kanye West – 'Yeezus'
Angel – 'About Time'
Best African/Afro Beats Act
D'Banj
Wizkid
P Square
Fuse ODG
Atumpan
Burna Boy
Ice Kid
Mista Silva
Best Gospel Act
Matt Redman
Dolly P
David Keigh
Rachel Kerr
Guvna B
Lyrical Soldier
Best Reggae Act
Movado
Gyptian
Demarco
Morgan Heritage
Spragga Benz
Sean Paul
Stylo G
Best Electronic/ Dance Act
AlunaGeorge
Rudimental
Disclosure
Bondax
Avicii
Diplo
Le Youth
Ray Foxx
Daft Punk
Best Music Video
Ghetts – 'The Cypher'
Stylo G – 'SoundBwoy'
Naughty Boy ft. Sam Smith – 'La, La, La'
Wookie ft. Eliza Doolittle – 'The Hype'
Fuse ODG ft. Wyclef – 'Antenna'
P.Square – 'Personally'
Tinie Tempah ft. 2Chainz – 'Trampoline'
Wretch 32 ft. Shakka – 'Blackout'
Jason Derulo – 'Talk Dirty'
Best Radio Station
1Xtra
Rinse fm
Capital Xtra
Kiss
Bang Radio
Voting for the Urban Music Awards 2013 is live from the 5th of October 2013 till the 15th of November 2013 on www.urbanmusicawards.net
Follow us on Twitter:
@urbanmusicaward
For Press Inquiries/Interviews/Accreditation:
Please contact:
IEG Public Relations;
Chrissy Straker
E-mail: chrissy@invinciblegroup.com
Tel: 0207-993-5896
For Sponsorship/Marketing:
Imran Sheikh
E-mail: imran@invinciblegroup.com
For Goodie Bags/Product Sampling:
Jasmine Singh
E-mail: jasmine@invinciblegroup.com
For Zuricom inquiries:
Please contact:
Geoffery Wright
E-mail: geoffery.wright@zuricom.com
Note to Editors:
The UMA 2013 Chosen Charity:
The 2013 UMA's will be raising awareness for the Diamond Children's Trust. A charity that helps children in less deprived countries by providing them with funding for education.
About the Urban Music Awards:
The Urban Music Awards is the NO. 1 premiere R&B, Hip Hop, Soul and Dance Music awards ceremony in the world. The Urban Music awards ceremony is held annually in the USA, UK, France, Caribbean, and Japan with plans to expand to Asia, Dubai and Africa. The Urban Music Awards was born out of the need to build a worldwide awards ceremony to recognise the achievement of urban based artists, producers, club nights, DJ's, radio stations, record labels and artist from the current Dance/R&B, Hip Hop, Neo Soul, Jazz and dance music scene. Past winners at the Urban Music Awards have included; Beyonce, Rihanna, Jay-Z, Nas, Amy Winehouse, Leona Lewis, Adele, Goldie, Dizzee Rascal, Sean Paul, Beverley Knight, Lemar, Shakira and many more. The Urban Music Awards has established itself as a credible awards ceremony. From its inception all nominations and voting have been left for YOU, the public, to decide! In the past decade, the prestigious awards ceremony has been covered by : The BBC World Service, CNN, MTV, BET, VH1, BBC Radio 1, BBC Entertainment Online, Invincible TV, Evening Standard, The Metro Newspaper, The Independent, The Guardian , Channel 4, CD:UK , London Tonight, Choice fm, New Nation, The Voice, and many more.
For more information, please visit: www.urbanmusicawards.net
About Zuricom:
Zuricom, was founded in 2008 to develop, design, produce and market the next generation of tablet PC's and smart phones. With headquarters in China and sales offices in the United Kingdom, it manufactures and distributes PC's, Tablet PC's and laptops all across Europe, Africa and Asia.
For more information, please visit: www.zuricom.com
Tags :
BRUNO MARS
FUSE ODG & NAUGHTY BOY
JASON DERULO
KANYE WEST
LAURA MVULA
Mike Hough Laura Mvula Sasha Keable Koder Shakka Jacob Banks The Luminites Lianne La Havas Jahméne Douglas A*M*E Ruby Goe
Rudimental
TINIE TEMPAH
UMA News
Urban mUSIC aWARDS 2014
wiley
Wretch 32 ft. Shakka - 'Blackout'