Ones to Watch 2020 – Zone00 leads the way with new single 'Say They Names'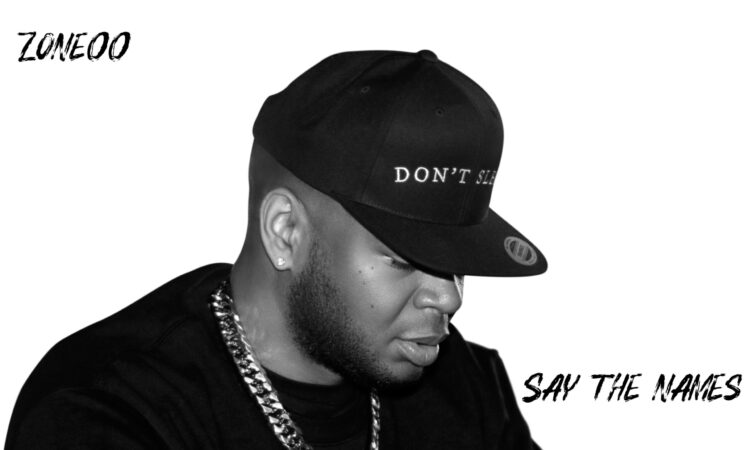 Introducing Donteau Mazone, known professionally as Zone00, pronounced (Zone Double O) is an American rapper, songwriter, and author originally from Texas and based out of Los Angeles, CA where he now calls home.  In 2019, he released two projects; Legend You Never Knew LP, subsequently followed by his smash EP, King of All Kings. In 2020, Zone00 released the provocative single Cuddy Buddy and has been featured in several major magazine publications. Recently Zone00 released Say They Names, and currently is in the studio working on his next project yet to be named.  Say the Names is a track that hits hard, Zone00 has a way with words which literally breaks things down to the core and connects with the listener at all levels. Say they names is looking at the global situation at present right now and it is bound to be a classic. Black Lives Matter has been a huge movement to encourage every other race on the planet earth to open their eyes to the injustices facing people of colour. George Floyd's murder sparked riots across the world that only go to show that the black race had literally well and truly had enough. Companies like Mokingo.com, launched the first social network entirely for Black people globally and 'Say They Names' is no different.  We have had the song on repeat in the office ever since it landed on our office desk and we are one hundred percent sure you will feel thesame. We decide to catch up with Zone00 for an interview.
How long have you been in the music industry and has music always been a part of your life?
I have been doing music consistently for seven years now. Music has always been part of my life whether it was me as a kid riding in the car with my dad bumping Marvin Gaye or me in junior high rapping while someone was beatboxing or making a beat on the table.
Was there a specific moment in your life when you thought, "Music is what I want to do"?
Well I have always loved music as long as I can remember. Someone would beat on the table to make a beat and I would start rapping. Later it graduated to freestyling over other artist's beats while me and my friends would ride ride around the city. Then some of my friends told me they thought I was super talented and from there I just decided to pursue a career in music.
What inspired you to write such a powerful record?
Like many I was moved to protests after seeing the video of the senseless killings of Ahmaud Arbery George Floyd, Breonna Taylor. The energy was palpable especially when the crowd began chanting "George Floyd, and Black Lives Matter". However, after attending several rallies in downtown Los Angeles, I still felt like I wasn't doing enough. I felt like I need to use that emotion and the pain to shine a light on the cost of racism and show that black lives matter. Say they names is all about remember the fallen. When we say their names we are putting a face on the problem which makes it difficult for anyone with heart to turn a blind eye.
What inspires you (or your music)?
I think the world would be like a black and white TV without music. Music adds color to our lives. My music is fueled by the trials and tribulations of my life, the creativity of my mind and making music people can relate to.
How would you describe your style?
I describe my style as me having no one style in particular. Originally I am from Texas so there is a southern vibe to my music, but at the same time it has a West Coast presence and pride myself on lyrics. I am more like a ghetto news anchor you know…my music is street, and arrogant with the old school rapper swag but-new school style with substance.

What would you say is your recording and song writing style?
For me track selection is very important. Often I will listen to at least 50 tracks a day before I hear a track that moves me. If I like the track I will start writing to the track which determines my cadence. When I am free writing lyrics I usually write 10 bars daily, but typically only 2-4 make the cut.
In five years I would like to see myself I like to be passing the torch to someone else and helping them succeed in the music industry.
Where can fans listens to your music?
Say They Names Smart Link: https://ffm.to/saytheynameszone00
Spotify: https://open.spotify.com/track/6a7dAGuNzWMTSpernnParH?si=-4riBRutTMCsi1m2K39biw
Website: https://www.therealzone00.com/
Tags :
Onestowatch
Zone00