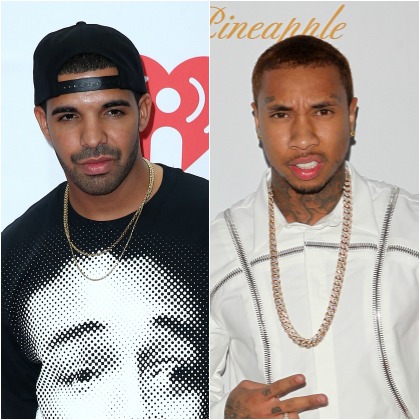 He was part of  the YoungMoney/CashMoney camp but does that mean sharing identical beat patterns is the new thing??  Well, you ask Tyga as the recently single gentleman who is still bouncing back from his recent break up with  Kylie Jenner has released a reggae/dancehall or let's call it trying to sound like 'dancehall'  single called '1 Of 1'.
Listen below: 

The song is reportedly taken from Tyga's upcoming mixtape 'B*tch I'm The Sh*t 2'.
Note to kids, if you tell your 'bitch you are the shit' she will get the fuck out of there because shit does stink even in America. I digress, fans on social media have noticed an eerie resemblance to Drake's 'Controlla' and as we know from the Drake v Meek Mill battle. This can get pretty ugly!!
The word on the street is that Tyga new song "one on one" sounds like a copy cat of Drake's "controlla"
Some people have even began trolling Tyga's Instagram comments with controller emojis.

Listen to Drake's 'Controlla' below:
Do you believe there are any similarities? Comments below >>
Tags :
controlla
Drake
kylie jenner
music
new music
one on one tyga
Rihanna
tyga