Ones to Watch 2020: JKingzz goes Gospel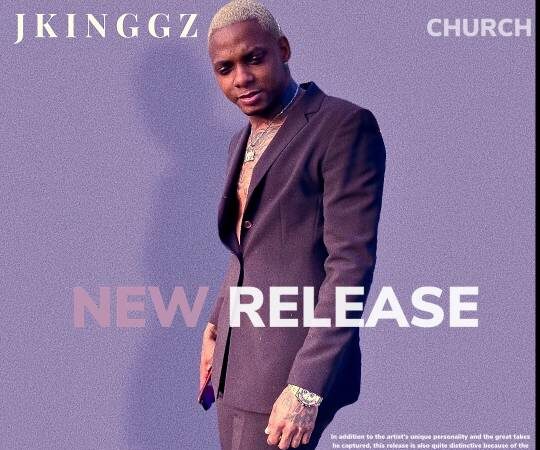 Recording Artist JKinggz knows where he's going in life, but is wise enough to know that he can't do without God spearheading the way. With a successful 2019 behind him, and an International collaboration kicked off his 2020, he looks to take a more spiritual route with his next release titled, "Church".
Featuring production by Filthy Plux, JKinggz gives praises to The Most High, asks for forgiveness for his sins, and shares that he has no shame in worshipping the Lord. While his message is one that many have shared before, JKinggz makes an unconventional move here by presenting his lyrics through rapping over a Trap beat. While modern Gospel Music has Pop, Reggae, Rock, and Hip Hop sub genres and influences, JKinggz shared that the delivery of "Church" is no different from the traditional ways as the message is still there. He makes a point that regardless of the style, if it brings in more believers to God, it should be welcomed. With the world facing the Covid 19 pandemic, JKinggz's song should help listeners seek refuge and comfort in God, and become more spiritual. JKinggz looks forward to "Church" being a repeater on many playlists and platforms when it's released this summer through his JKM Ent. label on all digital streaming platforms.
In addition to the new Gospel influenced single, JKinggz looks to release a follow up to his 2019 "No Co Sign" project. "No Co Sign" found him wearing many hats from its inception, to production, to release, and he looks do it again this time around. JKinggz urges everyone to stay safe during the Covid 19 pandemic by taking preventive measures to slow the spread of the Coronavirus.
We decided to catch up with an interview with the man behind the music JKingzz..
What inspired you to get into music?
I grew up around parents who loves music, my dad would wake us up everyday with music!
How would you describe your music?
I would describe my music as a cross between soul and trap, although I prefer to not put myself in a box as I have recorded other genres as well.
What would you say is your recording and song writing style?
My recording and song writing style would be finding a beat that goes along with my mood then I would start putting words together as I go along no writing.
Where would you like to see your music career in 5 years time?
I definitely see my music on the top billboards and being a Grammy artist 5 years from now and fully independent.
Where can music fans listen your music?
My music is available on all the major music platforms Tidal, Apple Music ,Google play, Spotify etc #Jkinggz!
Tags :
Church
gospel music
JKinggz
JKinggzChurch
Music interview
Ones to watch2020
UMAOnestowatch