Gospel Music at it's best – Florence Ekissi inspires with her story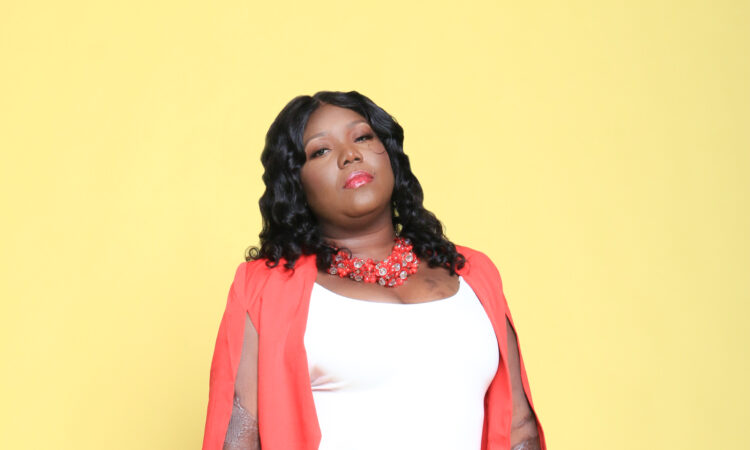 Proudly proclaiming her faith and praising The Lord through her music, the sensationally spirited energy & genuinely uplifting sound of singer/songwriter Florence Ekissi is a beautiful reflection of the pure love and devotion she carries for The Most High and her desire to share His message with everyone listening.After surviving a terrible incident that left Florence in the hospital with second & third degree burns, she endured a long road to recovery, including multiple skin grafts and surgical procedures. With The Lord at her side, she regained her health, and soon after realized that her new scars were actually strengths to inspire & propel her on her mission forward – and that indeed, her life had been spared for a reason. Florence Ekissi still had so much radiant joy, compassion, and music to share with the world awaiting. With her unshakeable faith in God, Florence answered His call and began to combine His message with her own vibrantly colorful music & stunning vocals in an effort to reach a whole new audience and share the teachings of the Bible through songs designed to connect to the hearts & minds of those who listen. Florence Ekissi understands the message of Psalm 59:16 deep in her soul. The Psalm reads "I will sing of your strength, in the morning I will sing of your love; for you are my fortress, my refuge in times of trouble." For Florence, the words are a testimony to her life's journey. Years ago, she suffered a terrible accident which left her hospitalized with second-and third-degree burns. Her road to recovery was a long and difficult one. But from her 'times of trouble," Florence emerged a strong and passionate Christian singer and a songwriter of profound faith. This month, her journey culminates in the release of her latest single "Lord, here I am." Florence spent days in the studio recording her newest single "Lord, here I am." The single, which has a soft pop style, is at once inspiring and calming to listen to. With the inclusion of several background singers, the song's lyrics and style are uplifting and spiritual. The message of the song is an invocation to the listener to surrender to the Lord and His word. Florence's singing is a beautiful and skillful tour de force that will leave the listener motivated and encouraged.Florence's uplifting and powerful music has won her fans from around the world. On her YouTube channel, her songs of faith have garnered more than 30,000 views along with dozens of positive comments of thanks and encouragement. Florence sings songs of Christian faith and the power of God's love in both English and French. Her songs are an approachable and beautiful combination of African musical influences, upbeat pop-style beats and inspiring gospel lyrics. "I have always loved music and singing," explains Florence. "After my accident, my faith took on a renewed importance to me. I began studying the bible more intensely and I soon realized that the new scars I had were actually strengths to inspire me & that they would propel me on my mission forward. I understood through scripture that my life had been spared for a reason. Now I wake up every day filled with the love and light of God and I am inspired to share His love with others. I sing songs of faith that communicate both the word of God and also the passion and mercy with which those words are written in the Bible."
Florence is a mother of two and the assistant pastor at the Precious Souls Outreach Ministry in Lewisville, Texas.
Lord, here I am was released at midnight on June 19, 2020 and is available to stream and download on Spotify, YouTube and iTunes.
We caught up with Florence Ekissi for an interview..
What inspired you to get into music?
Not knowing that music is my calling, I have always seen music as an escape, a way for me to rise above my difficulties, . Music easily changes my mood. I have a special and deep spiritual connection through music.
But I truly believe that Celine Dion's songs touched me as a little girl. I wanted to be the next Celine Dion.
And in 2010, a dramatic accident happened to me. From that time, everything changed and I now realized that God spared my life for a reason. Music is and has always been a calling for me, not just an escape but a calling. I was created to worship God , to share the gospel through music.
God is my inspiration to get to music.
How would you describe your music?
I am a Christian/ gospel artist. My music is more of a prophetic worship. The words are inspired by God and deeply rooted in the Bible. And the sound is a mix of different type of music: pop, orchestra country music and caraibean. It's to inspire and motivate, encourage and strength the listener.
What would you say is your recording and song writing style?
I don't really have a recording and song writing style.When I receive a song from God, most of the time the words and the sounds come at the same time. And it's never the same style. it can come in a form of caraibean or pop or contry etc… In English, in French or even my native language. Since God is the source of my inspiration, He is the one who defines who the song is aimed at according to everyone's musical background.
Where would you like to see your music career in 5 years time?
As a soul winner for the kingdo, I would love my music In five years to be spread all around the world. I want to see millions of people coming to God through my music. I want to travel the world with my band singing and worshipping God with His children.
Where can music fans listen your music?
My music is available to listen to and purchase directly on my website www.florenceekissimusic.com and also all digital platforms.
Tags :
Florence Ekissi
Music interviews